Happy Easter! Christ is risen! Christ is risen, indeed!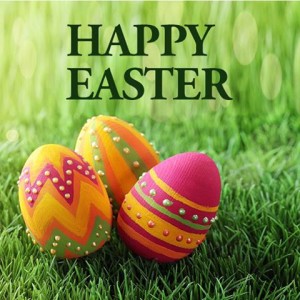 I have been thinking about one of our Easter symbols, and how it relates to our Christian context. We take ordinary brown and white eggs and add color to them, transform them into art, and call them Easter eggs. This tradition has been around for centuries and there are a wide variety of decorations used — everything from food coloring and sparkles to silk and gold leaf — some simple some very ornate.
The connection for me is the taking of the every day and transforming it into something beautiful. We can do some of that if we try. We can take flowers from our back yards and transform them into beautiful bouquets, we can take simple ingredients of flour, milk, and eggs and transform them into delicious baked goods. We can take a few moments out our day and transform them into refreshment and joy or healing and support when we share them with others.
But God takes our whole lives and transforms them into something kingdom worthy, something divine, something holy with one simple ingredient — Jesus.
Jesus suffered all of our worst moments — all of our sorrow, all of our misdeeds, all of our prejudices, all of our fear and all of our hatred — buried it and then arose from that bed of death to new life. That is what Easter is for us — not a resuscitation of what was — but a transformed newness of what can be — an everlasting, resurrected life.
A colored egg is still an egg, it will eventually be eaten or thrown away; but a resurrected life is something completely new and everlasting!
Like the hymn reminds us — Jesus paid it all!
Pastor Judy